We're still getting ready for our 70th Battle of Midway commemoration. There's been a lot of weeding, trimming, painting, sweeping, etc. The Battle of Midway was fought from June 4-6, 1942 and we'll be having the ceremony on Jun 4th (tomorrow, as I write this). We'll be getting 2 planes with visitors for the day. They have to fly in before sunrise and fly out after sunset to minimize the chance for bird strikes, so it will be a very long day for the visitors. There has been a veteran visiting us this week who was on Midway from 1941-1943, and it's been great to hear his stories about how things used to be here. He even remembers the Laysan rail (picture below), which is now extinct. We have another person coming tomorrow who was also here during the Battle of Midway. I'll give a few more details next week.
Jennifer and Christine are cleaning up "gun battery C", which is right behind the cemetery.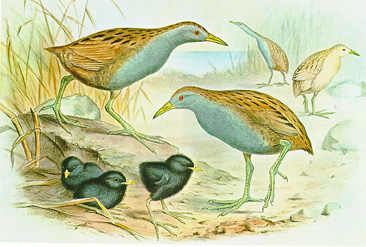 Here is the Laysan Rail that used to be on Midway, but became extinct when rats showed up. The image is from
Rothschild (1893-1900).
I got it from the Bishop Museum site. Wikipedia also has some great info.
We had a Memorial Day ceremony on Monday. Most of the island people showed up so it was nice.
Here is a close up of the Memorial Day wreath made by one of our Thai workers named Kittipong.